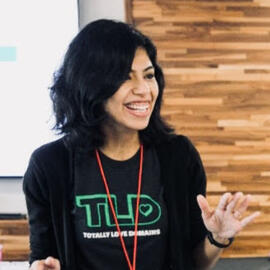 Priyanka Damwani
I live in Mumbai.

I studied mass media and majored in advertising.

I have been a domain nerd since 2009.

I was a part of the core team at Radix that helped launch the brand and its products in 2012. It was both exciting and exhausting.

I also led Channel Marketing for Radix.

I live with my lovely husband and 21 house plants.

I enjoy photography and design when I am not working. Visual art generally intrigues me.

I head Retail Marketing at CentralNic since 2018 with a remote team in 3 countries.

I am passionate about marketing and thoroughly enjoy it. I learn something every day.

I helped OnlyDomains evolve from this to the current brand. It's still a work in progress.

I have been fortunate enough to visit 14 countries, mainly for work.

I want to run a marathon and live by the beach.

I aspire to have arms like Michelle Obama someday.
---